At Femesque we provide a wide range of hair services. We focus on giving you a realistic, natural look wether you are looking to tame and style your own hair or are thinking about purchasing a wig. We also have options such as colouring your hair and adding extensions for length and thickness.
A lot of transgender people find it hard to style their own hair and if they are unable to be female full time a wig tends to be an easier option. We stock a wide variety of colours and styles here at Femesque so if you would like to leave the premises wearing a wig there is a chance you can purchase one from us on the day. We are located in a private house and we offer free one to one wig consultations upstairs in a fitting room as well as having a full working hair and beauty salon. If you decide it is your own hair that needs restyling then we have a team of two top stylists, a beauty therapist and the salon director all working in the salon downstairs. Our beauty therapist will recommend current nail colours, the appropriate clothing and makeup application techniques. Our hair stylists are also here to give advice on which products to use, how to use them and how to wash and style natural hair, top pieces, wigs etc.
Here is some information on one of our best selling products from the smoothing range of Paul Mitchell. It is one of the favourites in the salon and is called Gloss Drops. We recommend this for every one as it is great for your natural hair as well as specific wigs. It smoothes and conditions eliminating frizz and fly away hair completely. This is good for wigs as sometimes you can get a friction burn around the ends of the human hair from it rubbing against clothing. You can use this just like a normal serum and apply literally ONE drop into your hands. By working this into your hands you are not coating your hair in this product. Really push the product into the ends of your hair running your fingers through. If it feels greasy at all then you have used too much product. Gloss Drops will improve the condition of the hair and can be used every morning or night. Make sure you always apply this to dry hair. We hope you have enjoyed hearing about our favourite styling product this month! Keep an eye out for more product recommendations!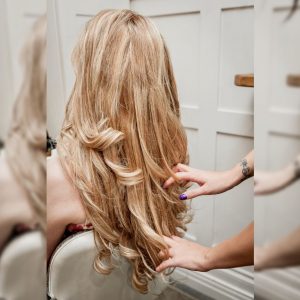 For any help with hair and beauty call our team on 01252331323